MOOL MANTAR JAP TAP SAMAGAM & SIMRAN SADHANA- 2022 by Bhai Sahib Bhai GurSharan Singh Ji (Ludhiana wale)
On 30th and 31st of July, 2022, Guru Nanak Fifth Centenary School invited Musical Artist, Gurmat Preacher, Bhai Gursaran Singh Ji, Ludhiana wale to host a Jap Tap Samagam for the purity, peace and prosperity of our Dev Bhoomi. A Sangat of more than 5000 all over India joined in for the Mool Mantra Jap which resonated all around the mountains calling for a peaceful Uttarakhand.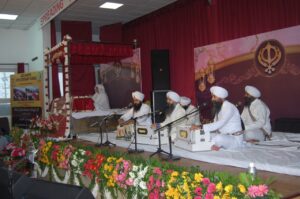 The morning of 30th July called for peace and solace. Bhai Gursaran Ji was welcomed by Sardar M.P. Singh, Secretary, GNFCS Society, Sardarni Jashween Kaur, Member of Managing Committee, GNFCS Society, Principal, Mr Anil Tiwari, Headmaster Mr Kuldeep Singh Tyagi, Mr Sunil Bakshi, Administrative  Officer, GNFCS, Sardar Jaswant Singh(Bobby), President of Punjabi Promotional Council, Sardar Paramjeet Singh, Sardarni Gurinder Kaur, Mr O.P. Uniyal, former President, Mussoorie Municipal  Corporation, along with other local dignitaries of Mussoorie and Dehradun. The staff and students of GNFCS also joined in the welcoming ceremony. Bhai Gursaran Ji then proceeded to the Assembly Hall for the pious event.
With the blessings of Guru the programme commenced with a beautiful Shabad "Aisa naam niranjan hoye" sung by the School Choir of GNFCS. Sardar Harpreet Singh addressed the gathering and welcomed everyone to the two days auspicious programme. The stage was taken over by Bhai Gursaran ji. He welcomed everyone and shared his vision for the Samagam. He then started Mool Mantar Jap which went live all over the world.  The valley reverberated with the melodious chanting's of the Mantras. It was an unbelievable feeling, a feeling of being one with the universe, an oneness with the Supreme. It is truly said as fragrance abides in the flower, as reflection is within the mirror, so does your Lord abide within you.
The first day programme ended at 7:00 PM with the distribution of prashad followed by langar sewa an important part of worship, a service to mankind. In his vote of thanks, Sardar M.P. Singh recalled his first meeting with Veer Ji and how he was impressed by his social work for the betterment of people. He also said that the Samagam was organized for the welfare of the people of Uttarakhand and will surely prove to be a blessing for Uttarakhand. Eager faces were seen everywhere, eagerness to join in the Simran Sadhna in the wee hours of Sunday, 31st of July.
Let good conduct be your Path, Truth your spiritual guide, and the Karma of good deeds your prayer and chant.