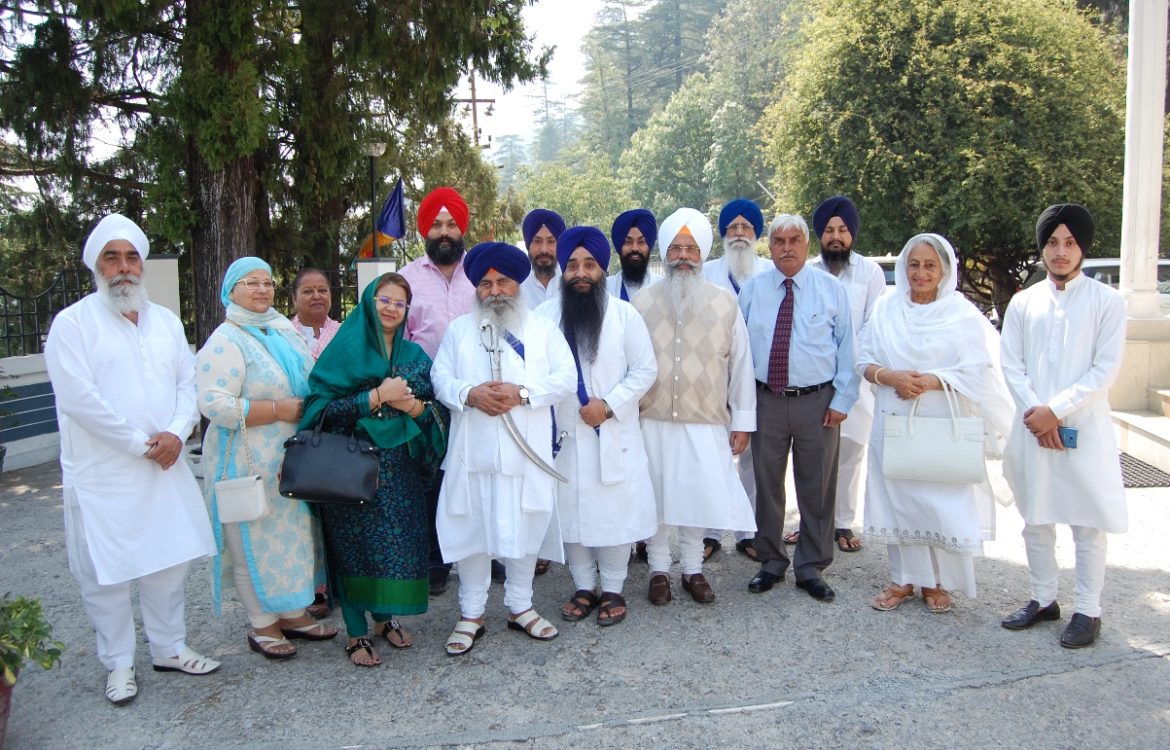 Seek Divine Blessings And Stay Blessed
RENOWNED SCHOLAR OF SIKH PANTH & HEAD OF AKAL ASHRAM – SOHANA BHAI SAHIB DAVINDER SINGH KHALSA (KHANNA WALE) – VISITS SCHOOL
Seeking the blessings from holy saints who bestow the love of God are moments one longs for. The children and staff of GNFC School were very fortunate to experience divine bliss and listen to Shabad Kirtan being performed by Bhai Davinder Singh. The programme at Vincent Hill commenced at 6.00 p.m on 28th May, 2018 in the assembly hall where the staff & students had assembled to recite the Rehras Sahib. This was followed by shabad kirtan by the school choir. The boys sang with great reverence the shabad 'Bandana Har Bandana, Gun Gavo Gopal Rai.' Bhai sahib Bhai Davinder Singhji Khalsa was introduced by the headmaster Sardar Harbans Singhji to the sangat. The kirtan of Bhai Davinder Singhji Khalsa created an ambience of spirituality. His message was conveyed through the shabad, 'Mat Vich Ratan Jawahar Manak Je Ik Gur Ki Seekh Suni'. If you focus on the word of the Guru you will enrich your mind with the wealth of knowledge.
The programme at Shangri-la on 29th May, 2018 commenced with the recital of Japji Sahib. This was followed by Jap Sahib rendered musically by the choir girls along with Mrs Varinder Kaur. Thereafter the boys and girls of GNFCS presented shabads. The melodious Kirtan by Bhai Davinder Singhji Khalsa enlightened the congregation, inspiring all to lead a righteous, pious and fruitful life. Speaking on the occasion he emphasized upon the importance of the present moment and not to fret about the past or the future. He mentioned that if you wish to succeed and realize your goals you must believe that the Almighty is always there to lead you ahead and one must have faith in his or her abilities.
Remembering our founders Sardar Mehtab Singh Ji, Sardarni Jasbir Kaur Ji, our Late Chairman Sardar Jaspal Singh Ji he applauded their efforts and appreciated their vision for having founded such fine institutions to mark the 500th birth anniversary of Guru Nanak Dev Ji.
Our Chairperson Sardarni Jasleen Kaur, Sardar Paramjeet Singh, Sardarni Gurinder Kaur, Mr M.P. Singh and Mrs Jashveen Kaur were presented with Siropas (Robes of honour) and blessed by Bhai Davinder Singh Ji Khalsa. Sardarni Jasleen Kaur honoured Bhai Davinder Singh by presenting him a momento and on behalf of the school management generously contributing for the Akal Asharam and eye hospital being managed by the trust.
Mrs N.D.Sawhney thanked Bhai Davinder Singh, Bhai Manjinder Singh and Bhai Yadvinder Singh for gracing the occasion. She also thanked all the distinguished guests and paid rich tributes to the founders Sardar Mehtab Singh, Sardarni Jasbir Kaur and late former Chairman, Sardar Jaspal Singh.
The congregation felt truly blessed and proceeded for Guru Ka Langar.